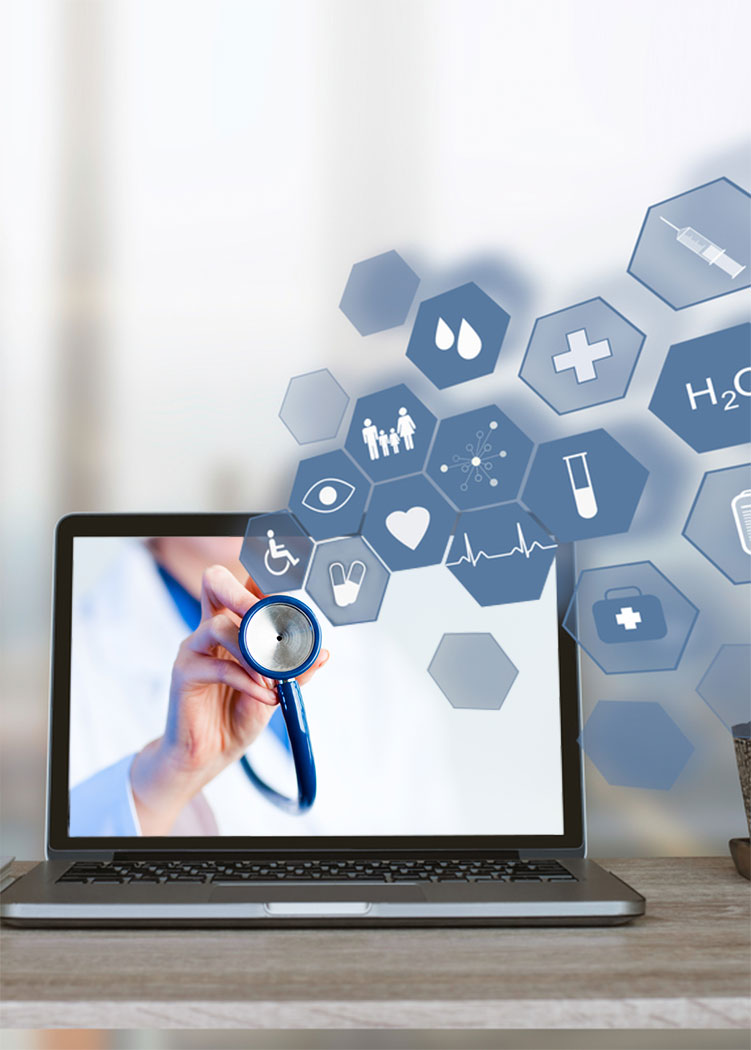 Telemedicine Services
How much easier would it be for you to get quality healthcare from your doctor if you could simply close your office door or sit down at home and log into her office from the convenience of your own computer or tablet? No arranging for time off work or setting up day-care for the little ones. No long drives fighting traffic. 
You simply check in on line and fill in your new patient forms or update your information quickly. You will then go to our online waiting room for a few minutes while the doctor is getting ready. At that point you will go into the virtual doctors office and see your doctor's caring face when she asks you how you are doing.
Your visit with Dr. Casad is in real time, just like she is standing right in front of you in her medical clinic. 
What is Telemedicine and how it benefits you
The age of the internet and cell phones has had life changing effects on all of us.  The progress of technology continues to positively impact the world of medicine in multiple ways.  Until this past September, residents of Texas were not able to enjoy the freedom of access to physicians across the state by using Telemedicine.  Senate Bill 1107, which became law in may of 2017, has changed all that.
Telemedicine allows doctors and patients to create personal, professional relationships using the sound and sight capabilities of the internet, so that patients can have access to care from doctors around the state without having to travel long distances and incur the inconvenience and cost of that travel.  Texas is a large state geographically, with broad population distribution.  Many rural counties have lower income levels, 35 counties in our state have no primary care doctors at all, and Texas ranks 46th in the United States in terms of primary care doctors per capita.  Texas was the last state to formally approve Telemedicine and it could not have come at a better time.
Now from the community in which you live, and even from the comfort of your own home, you can consult with a physician of your choosing in specialties that may not be available where you live as long as the doctor you desire is equipped to provide their services through Telemedicine.  In practice, the experience would be very similar to an in office visit.  After completing the necessary applications and furnishing the important information about your medical history, you will have a simple physical provided by a local certified medical technician.  The results of that physical go to your new doctor and, subsequently through the use of a virtual medical office waiting room, you and the physician will be able to discuss your personal medical needs and how your health can be improved as a result.
Click HERE for more information as to the Texas State Medical Board rules regarding Telemedicine, where many specific questions are answered.
Dr. Connie Casad is now expanding her telemedicine services to be able to assist patients in areas outside of Dallas.  With patients who live too far to get the kind of comprehensive medical services they need, patients who cannot easily travel, or for those that live a crazy busy lifestyle and end up putting off proper doctor care, Dr. Casad is extending her service to accommodate them and help reach those who would otherwise not be able to avail themselves of what Dr. Casad has to offer. Using telemedicine as an alternative to in-person visits has a host of benefits for patients.
Here are a few of the many advantages of our Telemedicine Services for patients:
Access to Specialist BHRT Services
Some patients who need the care of a specialist must drive long distances and invest a lot of time for each visit. Telemedicine makes it possible for you to leverage Dr. Cadad's expertise in Bioidentical Hormone Replacement Therapy or her overall Functional Medicine approach to wellness. When it comes to health issues, you want to consult with the best, not the closest.
Improved Quality
Studies have consistently shown that the quality of healthcare services delivered via telemedicine are as good those given in traditional in-person consultations. In some specialties, telemedicine delivers a superior product, with greater patient satisfaction and improved outcomes.
Cost Efficiencies 
Reducing the cost of healthcare is one of the most important reasons for adopting telehealth technologies. Telemedicine has been shown to reduce the cost of healthcare and increase efficiency through more preventative measures, better management of chronic diseases and fewer or shorter hospital stays.
No transportation time or costs
Now when you see your doctor on your mobile device or computer, you don't lose that travel time, skip the traffic jams and save on gas/parking/transport costs.
Less time off from work
Video visits largely remove the need to take time off. You can simply schedule your visit during a break, or before or after work. You can be anywhere that offers sufficient privacy. You can comply with your doctor's follow-up instructions and maintain your health without taking time off from work.
No child or elder care needed
Many of us have the responsibility for caring for children or older adults. Finding alternative care so that you can see the doctor can be difficult and expensive. Bringing them along can be stressful or impractical. Fortunately, telemedicine solves this challenge by allowing you to see your doctor while upholding your family responsibilities.
Improved Access
For over 40 years, telemedicine has been used to bring healthcare services to patients in distant locations. Not only does telemedicine improve access to patients but it also allows physicians and health facilities to expand their reach, beyond their own offices. Given the provider shortages throughout the world–in both rural and urban areas–telemedicine has a unique capacity to increase service to new patients.
Less Time in the Waiting Room
If you choose a video visit via telemedicine technology, you'll eliminate all that time spent looking at old magazines in a doctor's office. Even if you don't use telemedicine, choosing a practice that offers it will reduce your wait time by letting other patients be seen from home.
Better Health
When you are able to see your doctor as often as you need to, without the challenges of getting into the office, you can practice better management of your medication, lifestyle, and any chronic conditions you might have.
Given this list, it is not surprising that people are seeking out healthcare providers that offer the convenience and cost effectiveness of telehealth. 
With all of the recent developments in Telemedicine, Dr. Casad is now more available than ever to evaluate, diagnose and treat patients at a distance using telecommunications technology.
Over the past 15 years, study after study has documented patient satisfaction and support for telemedical services. Such services offer patients the access to providers that might not be available otherwise, as well as medical services without the need to travel long distances.